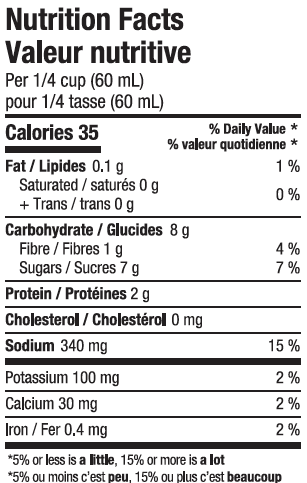 Sweet & Smokey Mango Salsa
Description:
We paired smokey flavoured tomatoes with sweet mangoes and a kiss of heat.
Extraordinary Taste. Simple Ingredients. So Good Together.
Ingredients:
Tomatoes (diced tomatoes, tomato juice, calcium chloride, citric acid), Sugars (mango purée, evaporated cane sugar), Mango, Water, Apple vinegar, Tomato paste, Onions, Roasted tomatoes (roasted tomatoes, tomato juice, salt, citric acid, calcium chloride), Salt, Cilantro, Onion powder, Corn starch, Habanero chili peppers, Dried chipotle pepper, Citric acid, Smoke flavour, Spices.
Attributes + Claims:
Naturally Gluten Free, Suitable for Plant-Based Diets. 
Size:
410 mL

Heat Meter:
3/5 Chili Peppers